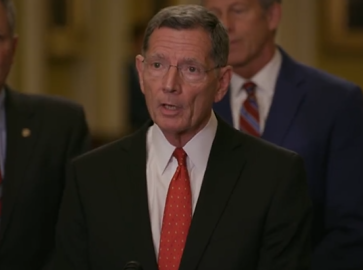 U.S. Senator John Barrasso (R-Wyo.), chairman of the Senate Republican Conference, today slammed Joe Biden and Democrats for turning their backs on the American Dream and undermining American exceptionalism.  
"Joe Biden and the Democrats seem hell-bent on destroying this country.
"With the 4th of July Independence Day just around the corner, I had a chance to visit in Wyoming with our Veterans of Foreign War and our American Legion. These are the people who fought for our freedoms. They believe that under Joe Biden and the Democrats this country is a nation in retreat. They see a military that is weakened because they are forced to focus on liberal ideology instead of military strength and strategy. They see a Southern Border that is wide open as fentanyl and felons flood our cities and kill our children.
"I also had a chance to visit with our delegates to Boys State and Girls State. These are the best and the brightest in the future of our nation.
"Wyoming is the Equality State. We believe in equal opportunity, not equal outcome. Outcome based on effort, not existence. We see the economy as a ladder to climb, not a line to wait in. And all of these groups that I met with believe in the American Dream and American exceptionalism. They believe we are a country of greatness, not of grievance.
"So when Joe Biden took office, gave his Inaugural Address, he pledged to bring the nation together. That's not what happened. Instead, it seems that Joe Biden and the Democrats spend just about every day stripping away our freedoms and undermining the things that have made this country great. They've undermined American energy security and our economic strength. They've worked to make us more dependent – dependent on our enemies and dependent on the government.
"So it is no surprise that the American Legion and the Veterans of Foreign War and at Boys State and Girls State, people all believe the country is heading in the wrong direction. Republicans are focused on getting our nation back on track. To do that we need to stop inflation, cut wasteful Washington spending, and unleash American energy once again."

###