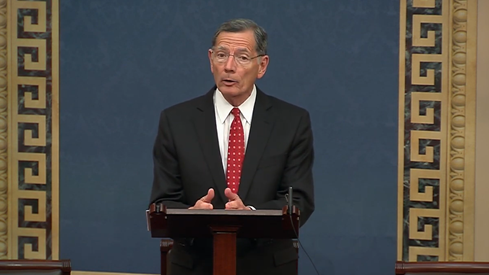 Click here to watch Sen. Barrasso's remarks.
WASHINGTON, D.C. – U.S. Senator John Barrasso (R-Wyo.) spoke on the Senate floor about what "Bidenomics" means to working families in Wyoming.
Excerpts from Sen. Barrasso's remarks:

"President Biden spent the last two weeks trying to define and re-define what has been come to known as Bidenomics. The president now wants to talk about his economic record. Well, I say let us have that conversation.
"Here is what Bidenomics means to working families in Wyoming. It means record inflation. It means hollowed out savings. And it means crushing interest rates. Bidenomics is a radical recipe causing more and more Americans to fall further and further behind.
"It means families are faced with tough decisions every single day. Decisions about how they are going to make ends meet. Decisions about what they can afford at the grocery store. How much gas they can put in their vehicle. Decisions as they try to pay their bills sitting at the kitchen table.
"Bidenomics is spelling a summer of suffering for every single American.
"Before the president took office, inflation was practically non-existent – 1.4 percent. Under the Biden-Harris administration, prices have risen 16.6 percent. American households are spending $900 more per month just to keep up.
"The average household has spent over $2,300 more on energy alone since Joe Biden came to the White House. Now that's to fill a tank of gas, keep the lights on, and it's to heat the house in the winter and cool it in the summer.
"Wyoming families are worried about our nation and our nation's future. And they believe we are on the wrong track.
"I've heard all over the 4th of July recess from families from Cody to Gillette and from Casper to Pinedale that's what they shared with me. And they are so much in agreement with families all across this country.
"Because the high cost of everything is the top issue that people are talking about and thinking about nationally. That's the impact of Bidenomics. That's what Joe Biden has done to this country.
"The Democrats have an agenda of runaway spending, of government overreach, and of reckless tax hikes. We warned our Democrat colleagues that the Biden-Harris spending would send prices soaring. That's exactly what happened.
"The spending also drove interest rates higher. Sky-high interest rates are sapping savings. They're putting an additional burden on working families. People are actually dipping into their savings account or taking on additional credit card debt just to pay current day bills.
"Credit card debt recently hit a record of nearly $1 trillion dollars. That's roughly $10,000 per household in this country. These are the drastic measures people are being forced to take because inflation outpaced wage growth for 26 months in a row.
"The Biden-Harris administration's regulatory agenda is the most expensive of any administration in modern history. The administration is surrendering America's energy and economic dominance. They're doing it to adversaries like China.
"The president wants all Americans driving electric cars – no matter what it costs. Here's the catch. Those electric cars are going to be slapped with 'Made in China' stickers.
"China controls the supply chain for the minerals needed to build the electric cars and the batteries. But we're not allowed to mine for it here. No. His Department of Interior shut down mining in Northern Minnesota for critical minerals.
"He's making China richer and America poorer. Joe Biden is turning to China – not American workers – for the critical minerals needed to build these cars. Bidenomics is selling out America's economic interests to Communist China.
"Bidenomics is ravaging our wallets, wrecking our savings, and ruining our economy. And the Democrats are saying, 'Great!'
"Senate Republicans have solutions to get America back on track. And it starts with spending less, and reducing red tape, and unleashing American energy.
"As the top Republican on the Senate Energy and Natural Resources Committee, I will tell you that unleashing American energy is my top priority.
"To accomplish that, we need to pass true permitting reform. Our plan's going to make life more affordable by making it easier to produce every type of American energy.
"We will need traditional, reliable forms of energy like oil, coal, and natural gas for years and years to come in spite of what the president foolishly believes.
"We also need to produce more energy from resources like nuclear, wind, and solar. We need it all. Unleashing American energy with permitting reform is the key that unlocks American dominance again.
"This is what we need to do to reverse the damage, destruction, and devastation of Joe Biden and Bidenomics.
"Bidenomics is a grim reality for too many people in Wyoming and across the country. Joe Biden, Kamala Harris, and Washington Democrats cannot keep ignoring the pain they are causing.
"Nobody can afford another bad day of bad Bidenomics."
###